DWETH111
Description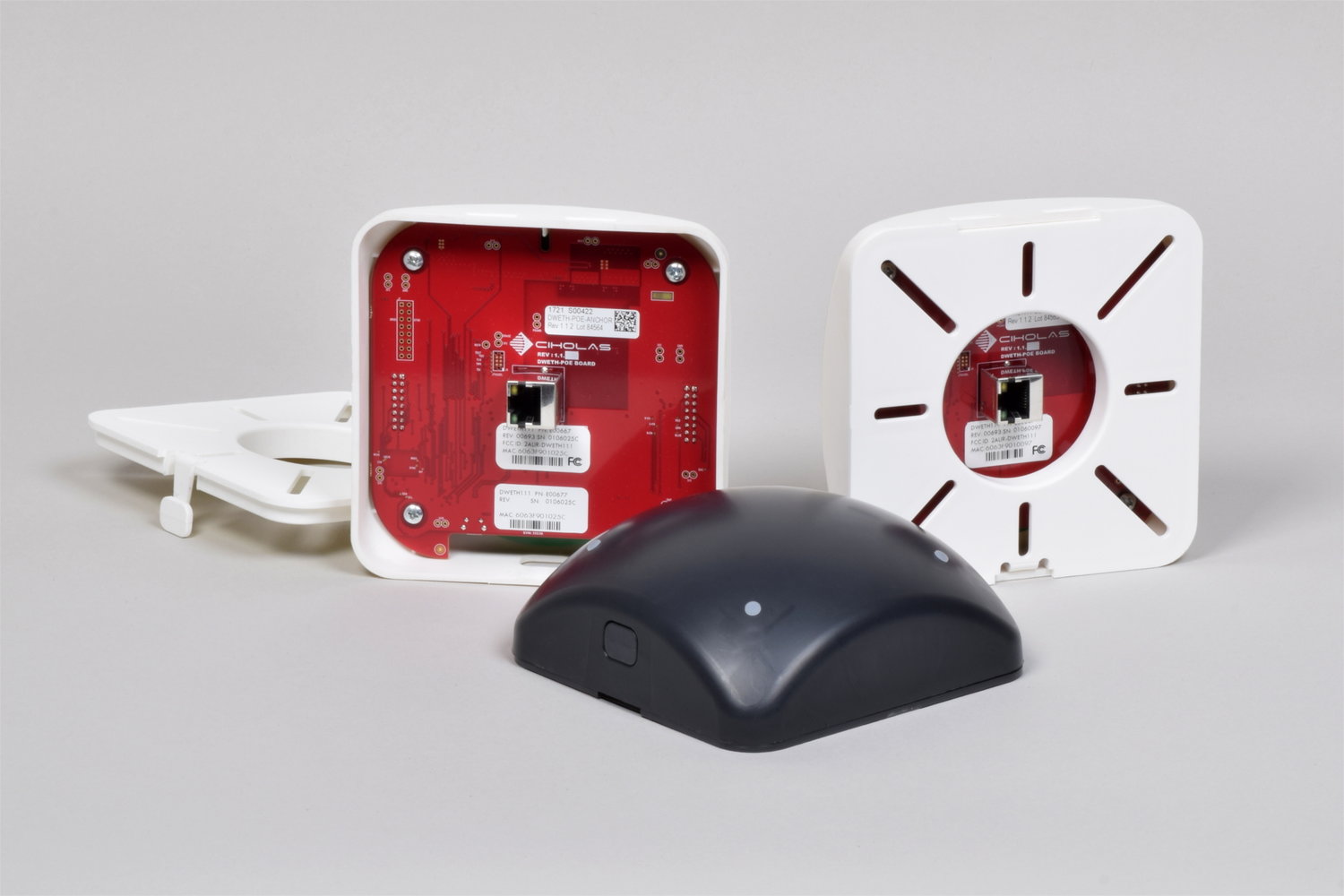 A DWETH is an Ultra-Wideband (UWB) transceiver intended for use with the Ciholas UWB (CUWB) Real Time Location Systems (RTLS). In a typical CUWB RTLS the DWETH operates as a static, or anchored, device providing reference locations for the system. DWETH111 uses Ethernet to provide reliable, high-bandwidth data connectivity, and has a comprehensive set of on board sensors. DWETH111 anchors are Powered over Ethernet (PoE) and are PoE standard compliant.
DWETH111 devices are FCC certified in the United States, and have CE marking in the European Union.
Features
32-bit ARM Cortex-M7 RISC processor with FPU

300MHz Maximum Speed
2048kB Flash
16kB Cache
384kB SRAM

Decawave DW1000 Ultra-Wideband transceiver

IEEE802.15.4-2011 Compliant
6 RF bands from 3.5GHz to 6.5GHz
Data rates 110kbps-6.8Mbps
Up to 1023-byte packet length

Integrated Omni-directional UWB antenna
Motion Processing Unit (MPU)

16-bit 3-Axis Gyroscope 250-2000°/S
16-bit 3-axis Accelerometer ±2g up to ±16g
14-bit 3-axis Magnetometer ±4800T
Digital Motion Processing including low-power quaternion
MEMS High Resolution Barometric Altimeter

24-bit 0.01hPa RMS
260-1260hPa absolute pressure range
16-bit temperature ±2°C absolute accuracy

Temperature and Humidity

±4% (max) Relative Humidity from 0 to 80%
±0.4% (max) Temperature from -10 to 125°C

Tri-Color LED Indicator
10BASE-T/100BASE-TX IEEE 802.3 compliant Ethernet tranceiver
Compliant with PoE power standards
FCC Certified in the United States under 47 CFR 15.250
CE marking in the European Union under EN 302 065-1
Note: Not all hardware features are supported by CUWB System software. See CUWB.io documentation for specific feature support.
Ordering
| Model | Part Number | Color | Description |
| --- | --- | --- | --- |
| DWETH111 | E00683-00694 | White | Single Port PoE 802.3af |
| DWETH111 | E00684-00696 | Black | Single Port PoE 802.3af |
Available from the Ciholas Webshop
Electrical
Ratings
| Parameter | Description | Min. | Typ. | Max | Units |
| --- | --- | --- | --- | --- | --- |
| Vin | DWETH111 | 30 | 48 | 57 | V |
| P | Nominal Operating Power1 |   | 2 | 3.84 | W |
| To | Operational Temperature | -20 |   | 60 | °C |
Device will classify as PoE 802.3af class 1 device
Block Diagram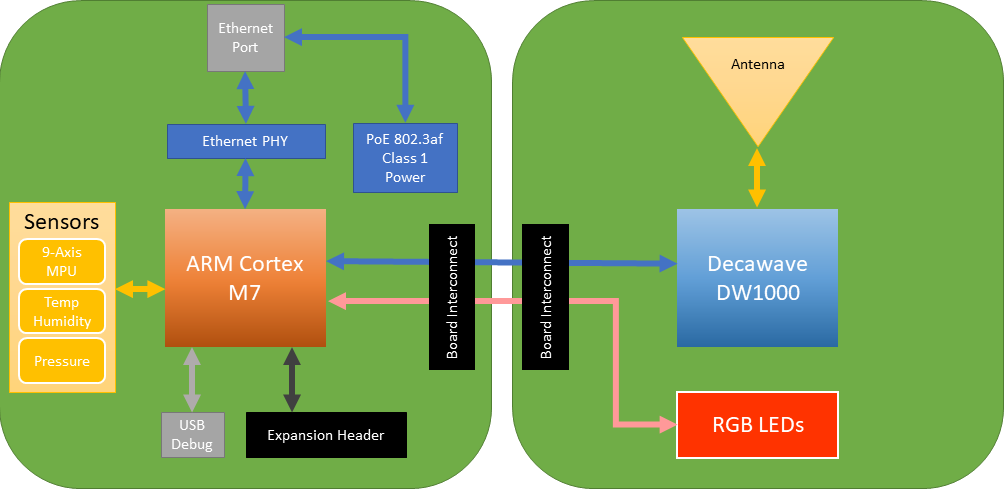 Mechanical
| Parameter | Description | Min. | Typ. | Max | Units |
| --- | --- | --- | --- | --- | --- |
| Mass | Typical Unit Mass | 240 | 245 | 250 | g |
Ingress Protection

IP10, not protected against contact and ingress of objects, no protection against liquids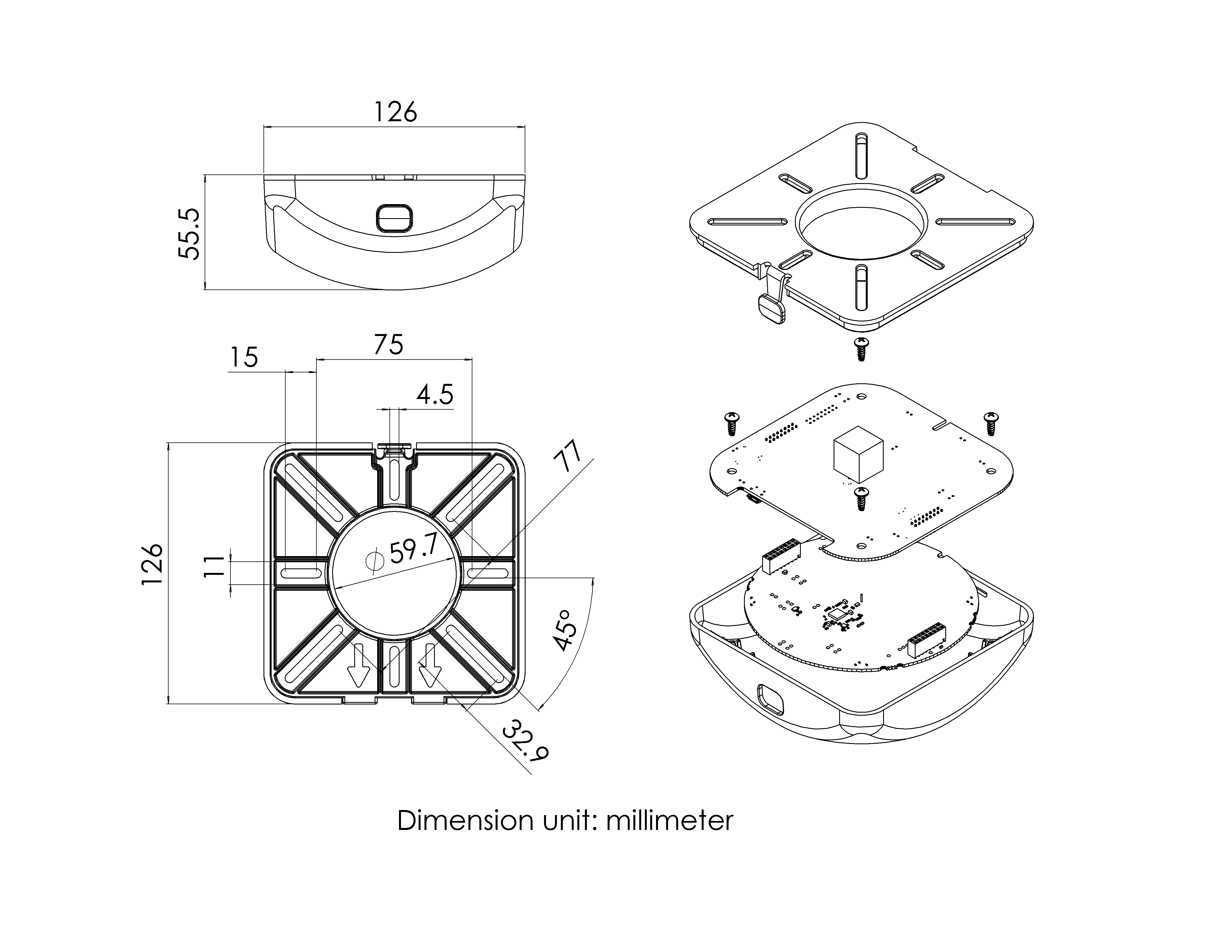 Operation
Power and Communication
The DWETH111 is compliant with PoE 802.3af standards and can be plugged directly into PoE compliant Power Sourcing Equipment (PSE) devices to receive both power and communications. The DWETH111 will negotiate with the PSE as a class 1 device with a maximum allowable power draw of 3.84 Watts.
Once plugged in the DWETH will attempt to gather network parameters using the DHCP protocol. If successful it will announce its presence to the CUWB network server on the subnet provided by DHCP. If the DWETH111 fails to connect to the DHCP server it will fall back on auto-IP parameters and announce its presence using those parameters.
Configuration
Details regarding DWETH setup and configuration for the CUWB RTLS can be found on the CUWB Documentation Site.
Sensor Data Reporting
DWETH111 has a variety of sensors and can be configured to transmit data from those sensors. Sensor data received by the CUWB server is broadcast via the Ciholas Data Protocol (CDP) providing access to users.
Sensor scaling and data rates can be configured for the following types of data:
| Sensor Type | Measurement Standard |
| --- | --- |
| 3-Axis Accelerometer | standard gravity (g) |
| 3-Axis Gyroscope | °/Second |
| 3-Axis Magnetometer | µTesla |
| Absolute Pressure | hPascal |
| Temperature | °C |
| Quaternions | Unit Coefficients |
LED Indication
The DWETH111 has tri-color (RGB) LEDs for conveying device state to users. In normal1 operation the device state can be determined using the table below:
| Network Status | Color | ON Time | Period |
| --- | --- | --- | --- |
| ON Network | Green | 10mS | 1.0S |
| OFF Network | Green | 10mS | 10.0S |
| Power On Reset2 | Blue | 500mS | N/A |
This table denotes normal LED operation. The CUWB network can be configured to show different patterns on the LEDs
Power On Reset (POR) occurs only on system reset. This will happen when charging a dead battery, on reboot after firmware update, and when the device resets due to system watchdog.
The RGB LED also conveys error states to the user. An error is indicated by a 500mS red flash followed by a color sequence. The following color sequences are used to decode error states:
| Color Sequence | Code | Description |
| --- | --- | --- |
| Red — White-White-White | 7 | DW1000 communication error |
Error Handling
[CODE 7] - DW1000 communication error
This indicates that the DWETH firmware is unable to communicate with the UWB transceiver. To clear this error reset the device by removing and reapplying power. If the problem persists please contact Ciholas for support.
Regulatory Compliance
FCC Certified in the United States under 47 CFR 15.250
CE marking in the European Union under EN 302 065-1
Federal Communications Commission
FCC Notice (For US Customers):
FCC ID: 2ALIR-DWETH111
Model: DWETH111
This device complies with part 15 of the FCC Rules. Operation is subject to the following two conditions:
This device may not cause harmful interference
This device must accept any interference received, including interference that may cause undesired operation.
Note: This equipment has been tested and found to comply with the limits for a Class B digital device, pursuant to Part 15 of the FCC Rules. These limits are designed to provide reasonable protection against harmful interference in a residential installation. This equipment generates, uses and can radiate radio frequency energy and, if not installed and used in accordance with the instructions, may cause harmful interference to radio communications. However, there is no guarantee that interference will not occur in a particular installation. If this equipment does cause harmful interference to radio or television reception, which can be determined by turning the equipment off and on, the user is encouraged to try to correct the interference by one or more of the following measures:
Reorient or relocate the receiving antenna.
Increase the separation between the equipment and receiver.
Connect the equipment into an outlet on a circuit different from that to which the receiver is connected.
Consult the dealer or an experienced radio/television technician to help.
Changes and modifications not expressly approved by Ciholas, Inc. can void your authority to operate this equipment under Federal Communications Commissions rules.
European Conformity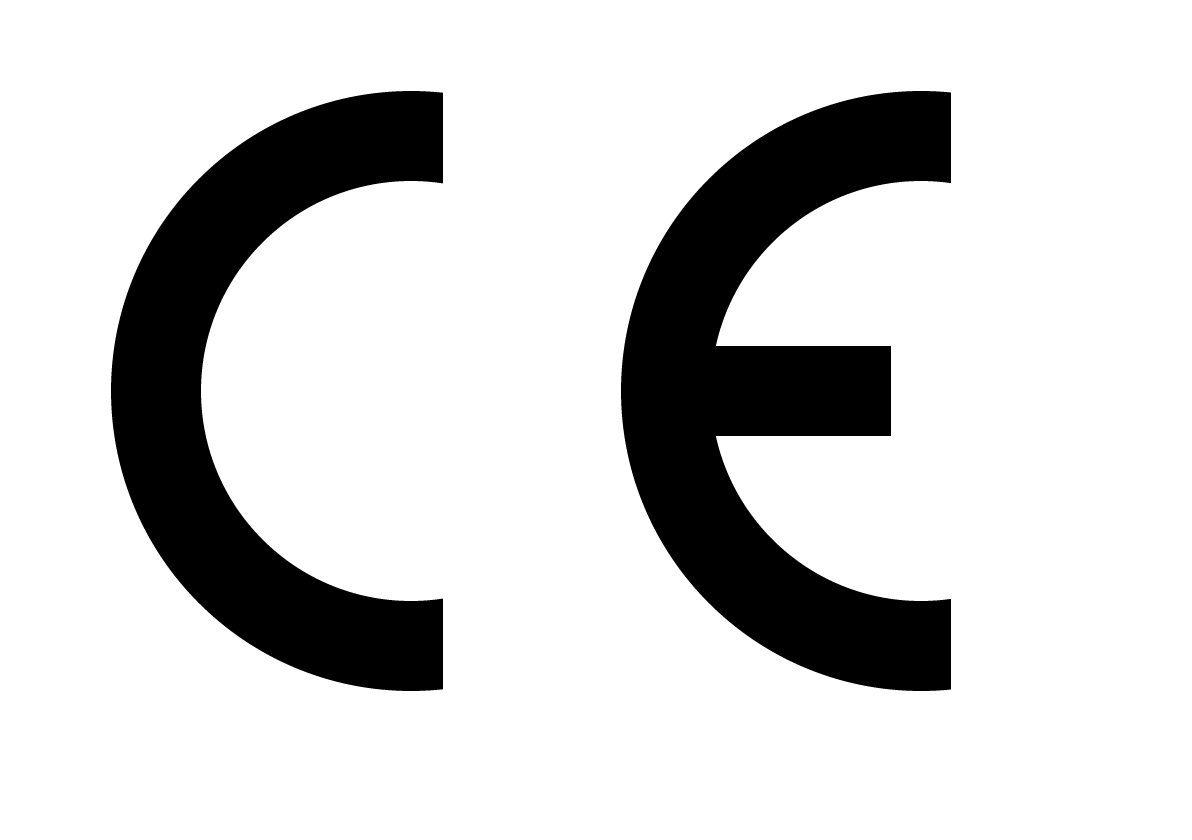 Hereby, Ciholas declares that this device is in compliance with the essential requirements and other provisions of Directive 2014/53/EU and Directive 2014/30/EU.
The full text of the EU declaration of conformity is available at the following internet address:
Product Warnings
---

Before working or installing electrical equipment, be aware of the hazards involved with electrical circuitry and be familiar with standard practices for preventing accidents
---

Usage of this product outside the parameters outlined in the user manual can result in bodily injury and damage to this and other equipment. To prevent this, please follow all instructions in the user manual.
Installation of this equipment must comply with all local and national electrical codes.
Do not operate any wireless network devices near unshielded blasting caps or in an explosive environment unless the devices have been modified to be especially qualified for such use.
---
Ciholas Standard Software License and Warranty
Unless expressly stated otherwise, all Ciholas Standard Software constitutes original code and is subject to Ciholas Software License (hereafter "the License"). Any use of Ciholas software must be in compliance with the License.
CIHOLAS SERVICES AND ALL INFORMATION, CONTENT, MATERIALS, PRODUCTS (INCLUDING SOFTWARE AND HARDWARE) AND OTHER SERVICES MADE AVAILABLE THROUGH CIHOLAS ARE PROVIDED ON AN "AS IS" AND "AS AVAILABLE" BASIS, UNLESS OTHERWISE SPECIFIED IN WRITING. CIHOLAS SERVICES INCLUDE, BUT ARE NOT LIMITED TO, THE FOLLOWING: CIHOLAS.COM, CIHOLAS SHOP, FORUM.CIHOLAS.COM, CUWB.IO, AND ALL CIHOLAS PRODUCTS, SOFTWARE AND HARDWARE. THE USE OF CIHOLAS SERVICES IS AT THE USER'S SOLE RISK.
EXCEPT AS EXPRESSLY PROVIDED IN THE CIHOLAS STANDARD WARRANTY POLICY STATEMENT, CIHOLAS HEREBY EXPRESSLY DISCLAIMS ALL REPRESENTATIONS, CONDITIONS, AND WARRANTIES, WHETHER EXPRESS OR IMPLIED, INCLUDING, BUT NOT LIMITED TO, IMPLIED WARRANTIES OF TITLE, MERCHANTABILITY, NON-INFRINGEMENT, AND FITNESS FOR A PARTICULAR PURPOSE. IN NO EVENT SHALL CIHOLAS BE LIABLE TO USER OR ANY OTHER PARTY FOR ANY DIRECT, INDIRECT, GENERAL, SPECIAL, INCIDENTAL, CONSEQUENTIAL, EXEMPLARY, OR OTHER INJURIES AND/OR DAMAGES ARISING OUT OF THE USE OR INABILITY TO USE CIHOLAS SERVICES (INCLUDING, WITHOUT LIMITATION, DAMAGES FOR LOSS OF BUSINESS PROFITS, BUSINESS INTERRUPTION, LOSS OF INFORMATION, BREACH OR ANY OTHER PECUNIARY LOSS), OR FROM ANY BREACH OF WARRANTY. NOTWITHSTANDING ANYTHING TO THE CONTRARY CONTAINED IN THIS DISCLAIMER OF WARRANTY, THE MAXIMUM AGGREGATE AMOUNT TO WHICH THE USER IS ENTITLED IS THE AMOUNT OF THE FEES PAID BY THE USER TO CIHOLAS.
CIHOLAS IS NOT LIABLE FOR ANY CONDUCT OF ANY USER OF CIHOLAS SERVICES NOR OF ANY APPLICATION OR USE OF CIHOLAS SERVICES IN AN ILLEGAL MANNER OR TO COMMIT AN ILLEGAL ACT OR IN A JURISDICTION IN WHICH IT IS ILLEGAL OR UNAUTHORIZED TO USE THESE SERVICES. IT IS THE RESPONSIBILITY OF THE USER OF CIHOLAS SERVICES TO ESTABLISH THE LEGALITY OF ITS USE IN THE USER'S JURISDICTION.
More Information
Please visit the following links for more information and documentation regarding Ciholas UWB systems and products:
DWETH111 Datasheet Change Log
Version
Date
Change Description
1.0
2018-05-10
Initial Public Release
1.1
2018-06-04
Added Product Warnings
Added Warranty Disclaimer
Added IP Rating
Added UE Conformity Notes
Modified Operation Temperature Range
1.2
2018-08-06
Added block diagram to electrical section