CPE100
Description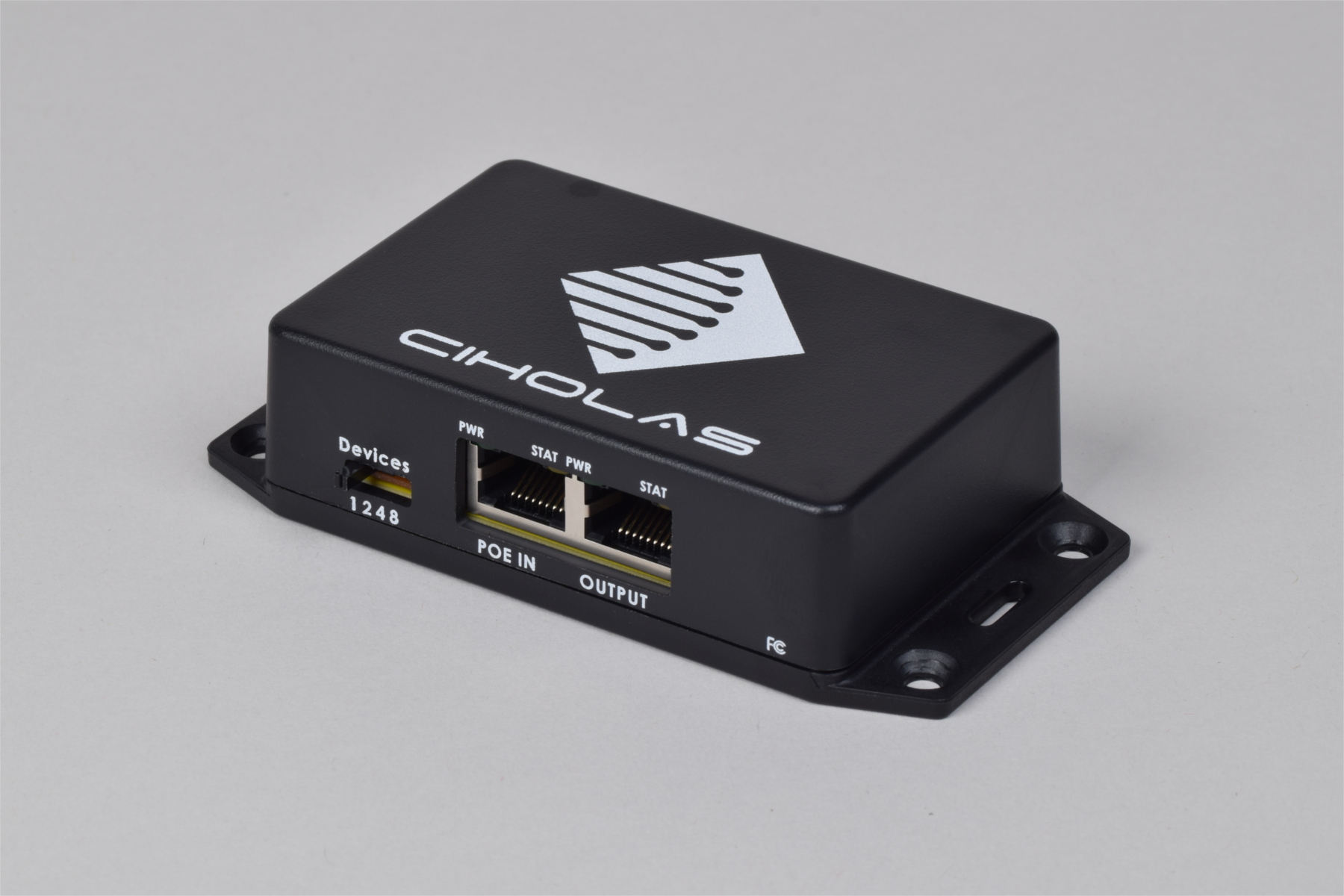 The CPE100 is small form factor device that provides the ability to power multiple Chainable Powered Ethernet (CPE) devices from a single Power over Ethernet (PoE) switch or router port. The CPE100 is fully 802.3af/at compliant, and can be configured to classify as a PoE class 1, 2, 3 or 4 device. The CPE100 enables the utilization of existing PoE infrastructure to power multiple devices improving infrastructure efficiency and reducing installation costs.
Features
Power over Ethernet PoE(802.3af)/PoE+(802.3at) Compliant
Configurable PoE Classification (1,2,3 or 4)
Enables standard PoE infrastructure to power chained CPE devices
Flexible Mounting Options
FCC Compliant
Ordering
| Model | Part Number | Description |
| --- | --- | --- |
| CPE100 | E00660-00739 | Power over Ethernet (PoE) to Chainable Powered Ethernet (CPE) adaptor |
Available from the Ciholas Webshop
Electrical
| Parameter | Description | Min. | Typ. | Max | Units |
| --- | --- | --- | --- | --- | --- |
| Vin | Input Voltage | 30 | 48 | 57 | V |
| To | Operational Temperature | -20 |   | 60 | °C |
Mechanical
| Parameter | Description | Min. | Typ. | Max | Units |
| --- | --- | --- | --- | --- | --- |
| Mass | Device Mass |   | 70 |   | g |
Ingress Protection

IP20, protected against fingers or small objects, no protection against liquids
Operation
Installation
The CPE100 was designed with mounting flexibility in mind. The enclosure includes a mounting ear on each side of the device.
Installation of the CPE100 in excessively hot or damp environments should be avoided.
Configuration
Configure the desired PoE classification using the switch located on the front of the CPE100. The classification options and their maximum power are as follows from left to right:
| CLASS | Max DWETH101 Supported | Maximum Power |
| --- | --- | --- |
| 1 | 1 | 3.84 Watts |
| 2 | 2 | 6.49 Watts |
| 3 | 4 | 12.95 Watts |
| 41 | 8 | 25.5 Watts |
Requires PoE+/802.3at
Classification only occurs on connection to Power Sourcing Equipment (PSE). To change classification disconnect power from the CPE100, move the configuration switch to the desired position, and reclassify by connecting to the PSE.
To ensure proper operation, it is recommended that the expected power draw from a port is no more than 80% of the total power provisioned for a classification level. As an example, the CPE100 should be configured for Class 3 when chaining 3 CPE devices each with an expected power draw of 3.0W, 9.0W total.
It is beneficial to configure the CPE100 to classify at the lowest class necessary for the expected power. The lowest class setting ensures that the PSE will not allocate more power than necessary for the port allowing it to reserve power for devices attached to other ports.
Chaining Devices
The CPE100 is designed to enable a chain of CPE devices to be powered from a single PoE port. To setup a chain of devices, connect the left Ethernet jack labeled 'PoE In' of the CPE100 to a PoE compliant PSE. The right port labeled 'OUTPUT' of the CPE100 connects to the first device in a chain of CPE devices. This output should only be plugged into CPE compliant devices such as the Ciholas DWETH101.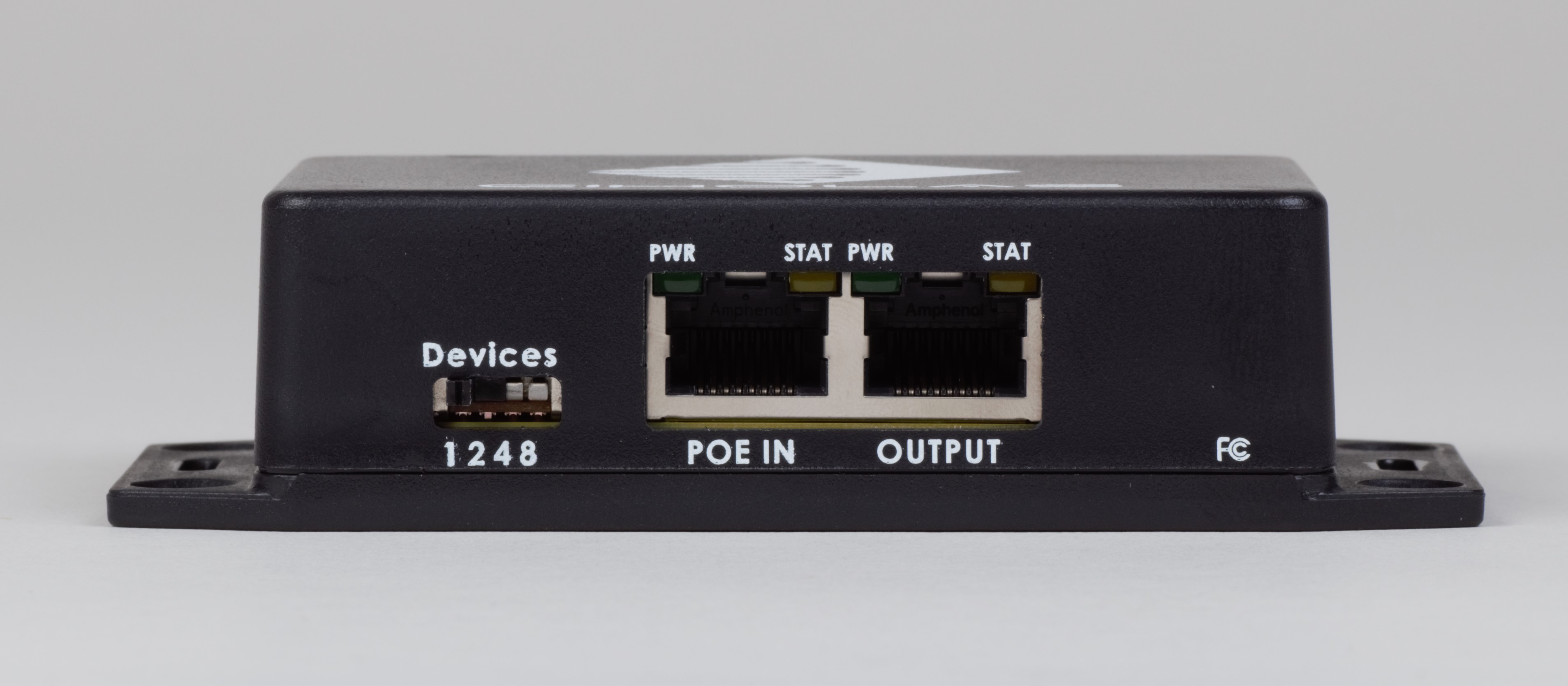 The following diagram demonstrates a typical configuration chaining multiple DWETH101 units.

Regulatory Compliance
This equipment has been tested and found to comply with the limits for a Class B digital device, pursuant to part 15 of the FCC Rules. These limits are designed to provide reasonable protection against harmful interference in a residential installation. This equipment generates, uses and can radiate radio frequency energy and, if not installed and used in accordance with the instructions, may cause harmful interference to radio communications. However, there is no guarantee that interference will not occur in a particular installation. If this equipment does cause harmful interference to radio or television reception, which can be determined by turning the equipment off and on, the user is encouraged to try to correct the interference by one or more of the following measures:
Reorient or relocate the receiving antenna.
Increase the separation between the equipment and receiver.
Connect the equipment into an outlet on a circuit different from that to which the receiver is connected.
Consult the dealer or an experienced radio/TV technician for help.
Product Warnings
---

Before working or installing electrical equipment, be aware of the hazards involved with electrical circuitry and be familiar with standard practices for preventing accidents

The CPE100 is designed for use with equipment specified in the CPE100 User Manual only. Using the power injector with other Ethernet-ready devices can damage the equipment.
---

---
Ciholas Standard Software License and Warranty
Unless expressly stated otherwise, all Ciholas Standard Software constitutes original code and is subject to Ciholas Software License (hereafter "the License"). Any use of Ciholas software must be in compliance with the License.
CIHOLAS SERVICES AND ALL INFORMATION, CONTENT, MATERIALS, PRODUCTS (INCLUDING SOFTWARE AND HARDWARE) AND OTHER SERVICES MADE AVAILABLE THROUGH CIHOLAS ARE PROVIDED ON AN "AS IS" AND "AS AVAILABLE" BASIS, UNLESS OTHERWISE SPECIFIED IN WRITING. CIHOLAS SERVICES INCLUDE, BUT ARE NOT LIMITED TO, THE FOLLOWING: CIHOLAS.COM, CIHOLAS SHOP, FORUM.CIHOLAS.COM, CUWB.IO, AND ALL CIHOLAS PRODUCTS, SOFTWARE AND HARDWARE. THE USE OF CIHOLAS SERVICES IS AT THE USER'S SOLE RISK.
EXCEPT AS EXPRESSLY PROVIDED IN THE CIHOLAS STANDARD WARRANTY POLICY STATEMENT, CIHOLAS HEREBY EXPRESSLY DISCLAIMS ALL REPRESENTATIONS, CONDITIONS, AND WARRANTIES, WHETHER EXPRESS OR IMPLIED, INCLUDING, BUT NOT LIMITED TO, IMPLIED WARRANTIES OF TITLE, MERCHANTABILITY, NON-INFRINGEMENT, AND FITNESS FOR A PARTICULAR PURPOSE. IN NO EVENT SHALL CIHOLAS BE LIABLE TO USER OR ANY OTHER PARTY FOR ANY DIRECT, INDIRECT, GENERAL, SPECIAL, INCIDENTAL, CONSEQUENTIAL, EXEMPLARY, OR OTHER INJURIES AND/OR DAMAGES ARISING OUT OF THE USE OR INABILITY TO USE CIHOLAS SERVICES (INCLUDING, WITHOUT LIMITATION, DAMAGES FOR LOSS OF BUSINESS PROFITS, BUSINESS INTERRUPTION, LOSS OF INFORMATION, BREACH OR ANY OTHER PECUNIARY LOSS), OR FROM ANY BREACH OF WARRANTY. NOTWITHSTANDING ANYTHING TO THE CONTRARY CONTAINED IN THIS DISCLAIMER OF WARRANTY, THE MAXIMUM AGGREGATE AMOUNT TO WHICH THE USER IS ENTITLED IS THE AMOUNT OF THE FEES PAID BY THE USER TO CIHOLAS.
CIHOLAS IS NOT LIABLE FOR ANY CONDUCT OF ANY USER OF CIHOLAS SERVICES NOR OF ANY APPLICATION OR USE OF CIHOLAS SERVICES IN AN ILLEGAL MANNER OR TO COMMIT AN ILLEGAL ACT OR IN A JURISDICTION IN WHICH IT IS ILLEGAL OR UNAUTHORIZED TO USE THESE SERVICES. IT IS THE RESPONSIBILITY OF THE USER OF CIHOLAS SERVICES TO ESTABLISH THE LEGALITY OF ITS USE IN THE USER'S JURISDICTION.
More Information
Please visit the following links for more information and documentation regarding Ciholas UWB systems and products:
CPE100 Datasheet Change Log
Version
Date
Change Description
1.0
2018-05-10
Initial Public Release
1.1
2018-06-04
Added Product Warnings
Added Warranty Disclaimer
Added IP Rating
Modified Operation Temperature Range
Added max DWETH column to configuration table